Rates Hotels on Lake Garda
Parc Hotels Italia offers a booking-online engine extremely efficient and convenient. With few clicks you can book a holiday which will be unforgettable, guaranteed!

Dynamic rates in order to meet our guest's demands – just verify our rates, availability and book online right now. Fill in the arrival and departure dates and the preferred room type and check the real-time availability.

No availability? Then please contact our booking office with an email to garda@parchotels.it or with a phone call to 0039 0365 913540: our team will be glad to give you more information about our offers and the best available rate!

Special Offers, Promotions and Packages
Parc Hotels Italia offers the best available Special Offers, hotel Packages and Promotions. In fact it is not easy to find an hotel on Lake Garda offering both quality and convenient rates, Parc Hotels Italia is able to bring them together! We really hope that you will find the best offer for you and that you will book in advance enough to benefit from the offers of your chosen hotel.


Rates Hotels in Sicily
Taormina mare - Letojanni (ME)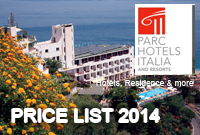 Taormina mare - Letojanni (ME)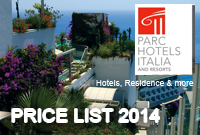 Taormina mare - Letojanni (ME)